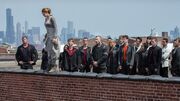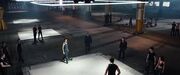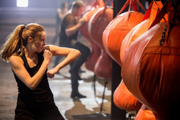 Process
[
]
The initiation process is different through every faction. Some factions are stricter than others regarding who, if anyone, is cut and made Factionless. In Abnegation, no one is made factionless and they can only become factionless if they choose to.
For the Dauntless initiation, you must be able to pass 2 rounds of fighting, face your fear simulation, and lastly, go through your fear landscapes. In the end, during the initiation ceremony, the leaders of Dauntless will come down and observe each initiate go through their fear simulations one by one and give scores. The scores are extremely important, because jobs with the most authority and honor are only given to people ranked at the top.
Initiates
[
]
For the Candor initiation, you must simply attempt to tell no lie, and for your final round of initiation, you will be put under truth serum, a serum that makes you tell only the truth. Even most of the Divergent can't fight this truth serum, so it is very powerful.
Initiates
[
]
Present

Claire Satchwell - Candor born

Past
For Erudite initiation, you must work hard on your own to become very intelligent, and you will take a final test to show that have very good intelligence and that you qualify to be in Erudite.
Initiates
[
]
Present

Jonathan Ziggler - Erudite Born
Caleb Prior - from Abnegation

Past
For Abnegation initiation, you have to show your leaders that you are selfless enough to be in that faction, by doing 30 days of community service. Very simple, because if it weren't simple, it would be selfish. Nobody ever fails Abnegation initiation.
Initiates
[
]
For Amity initiation, you will learn to work with others well and cause no harm to the people or to the facility. For final initiation, you will be put under peace serum to see how you react.
Initiates
[
]
Present
Past
Johanna Reyes - from Candor
Failure
[
]
Failure to complete any of these tasks for the faction means being released from the faction and become Factionless . The Factionless are homeless, unless they get lucky and find an abandoned house to live in. Abnegation help these poor people live. The only exception to this is Abnegation initiation (see above).
TBA
TBA
TBA
References
[
]